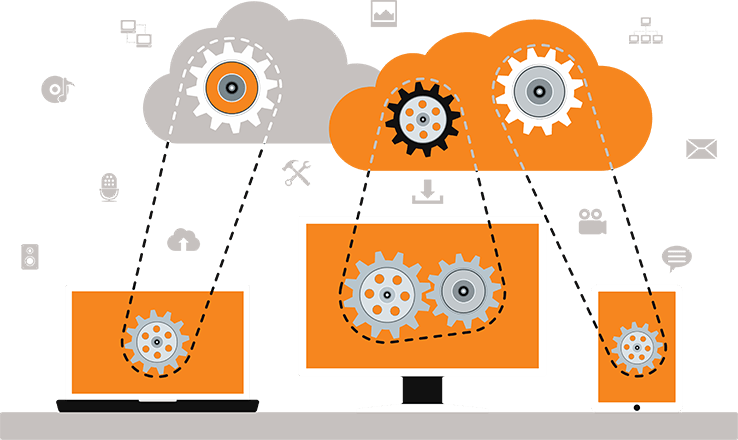 With digital transformation being the main stream strategy for most organizations around the world and across industries, use of cloud platforms and services is normally a key driver to achieve this transformation successfully.
Traditionally, IT departments host their own infrastructure and applications in-house. When migrating, fully or partially, in one shot or in stages, there needs to be diligent planning and consideration of aspects of IT services that will be impacted by this move. It's not a simple change to transfer assets from being locally hosted to being virtually accessed. Inevitably, a large portion of services provided, if not all of them, will need to be re-engineered to account for this change. This transition, however, should be made as seamless as possible so that it doesn't have major impact on mission-critical services provided to the business.
So, an additional layer of service architecture will need to be taken in consideration, namely: the cloud architecture. While cloud services usually address technology architecture (IAAS, PAAS), and information systems architecture (data + applications; PAAS/SAAS), still the business architecture level is the driver of these underlying layers. Business architecture, in terms of functions, processes, roles, etc., is what actually entails what needs to be included there within the lower levels of architecture, that's technology, data, and application architectures.
All of these layers can be modeled to be composed of cloud-based components, yielding a cloud architecture interleaving with the enterprise architecture across all business segments and domains.
Key factors of success of cloud architecture include:
Selection of the cloud service provider that best meets the specific needs of the specific component you are looking for to serve the correct functionality within the respective architecture domain in your enterprise architecture, and that provides the correct interfacing to your other components.

Interoperability between the cloud components you are using from various cloud providers, and with your in-house assets that will not be moved to the cloud (when you are choosing the hybrid cloud model).

Availability levels in your SLA with the cloud provider, and agreed support services.

Speed of connection and redundant access points so that you don't lose reach to your assets online.

Careful cost calculations, see whether the cloud will really support your cost saving targets. Cost savings can be non-financial, in the forms of more productivity, higher mobility, more security, etc.
Finally, make sure that you always have the flexibility to move in and out your cloud provider environment when needs arises, as quickly and cost efficiently as you need, so that you can reconfigure your cloud environment and select among providers as deemed to be for the best benefit of your business users targets.
---
By: Rania Al-Maghraby, Owner & General Manager, ClouDesk Inc.